What is the IDrive MSP Partner Program?
IDrive offers two programs for MSPs to generate recurring revenues. MSPs can either choose to refer our products to their clients or resell our cloud storage space.
Become a partner
Referral Partner Program
Refer IDrive and earn 25% commission on all paid signups. Also, refer IDrive® BMR to earn 25% commission on signups.*
How can I earn with the IDrive referral partner program?

Sign up for IDrive's referral partner program.
Promote IDrive to your customers and have them sign up using the link we provide.
Get paid qualifying revenues every quarter on your referred IDrive accounts and earn commission on qualifying IDrive BMR signups.
Relax as IDrive manages customer service and back-office support for you.
Bulk Reseller Program
Buy bulk storage from us and resell to customers at a price you determine. Customize application with your company logo for brand awareness.
How does the IDrive reseller program work?
Buy storage in bulk, create user accounts, and resell at prices determined by you.
Integrate company logo into IDrive application, for greater brand recognition.
View users' storage, and control your own billing options.
Tech assistance from IDrive for all your technical issues or questions.
IDrive can serve as the perfect Cloud Backup solution for MSPs
Your customers can backup multiple PCs, Macs, Servers, Android, and iOS devices to a single cloud account, at a low price.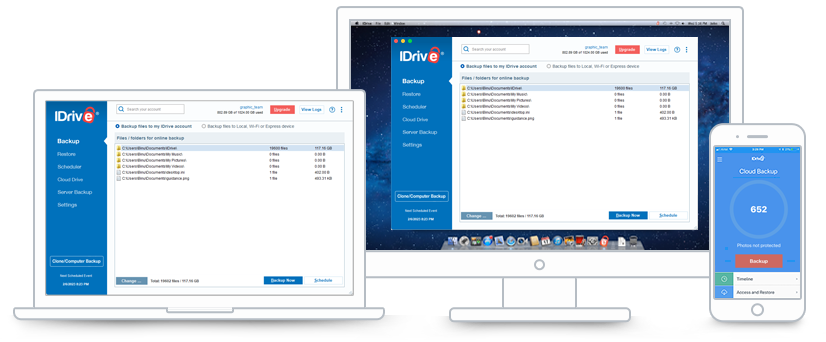 Protect your customers' data with IDrive® BMR
Perform onsite bare-metal disaster recovery with snapshots, KVM-based instant local and cloud virtualization, WinRE system recovery, VMware backup and restore, snapshot recovery of network shares, cloud replication, and cloud seeding. IDrive BMR is an ideal Disaster Recovery as a Service (DRaaS) solution with the capability to backup hundreds of machines.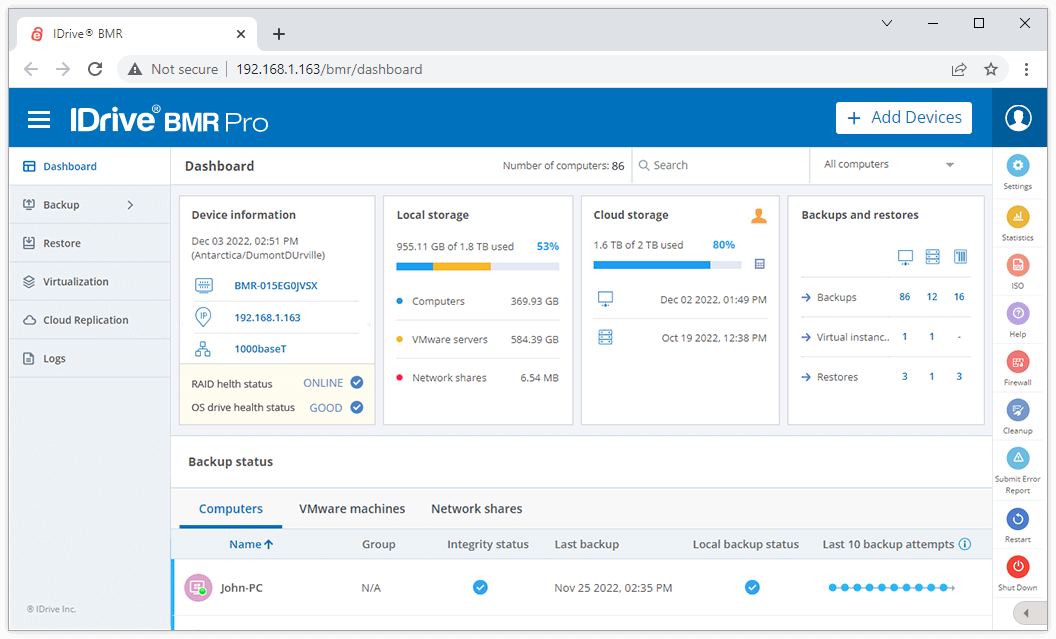 Backup multiple partitions or whole hard drives to create recovery points for your entire system.
Backup your VMs running on ESXi hosts and vCenter servers with BMR VMware backup.
Secure data storage using AES 256 CCM/AES 256 GCM encryption; ensure data encryption during transfers.
Perform incremental backups with IDrive BMR's own Changed Block Tracking (CBT).
Snapshot-based image restore for point-in-time recovery. Restore multiple machines in one go as image data can be accessed directly from the device during restore.
Create up to four virtual instances of your computers and VMware machines using the KVM hypervisor.
Perform restore using a WinRE-based environment that supports a variety of dissimilar hardware.
Enable data restores with pre-configured boot CD or USB thumb drive.
Create network shares on the IDrive BMR server for access across multiple protocols, and secure the databases via local snapshots.
Transfer backups stored on your IDrive BMR device to the cloud via scheduled/manual cloud replication and monitor the transfer status via the centralized console.
In addition to image backup, use your available cloud space to secure your Linux, Macs, PCs and mobile devices.
Become a reseller today!
Thanks for contacting IDrive to become an MSP partner. Someone from our Staff will contact you shortly!
Some error occurred. Try again after sometime.