Microsoft 365 Exchange Mailbox
Microsoft 365 Exchange Mailbox
IDrive supports backup and restore of multiple Microsoft 365 Exchange mailboxes, hosted online. You can backup and restore mailbox data, like email folders, calendars, contacts and tasks.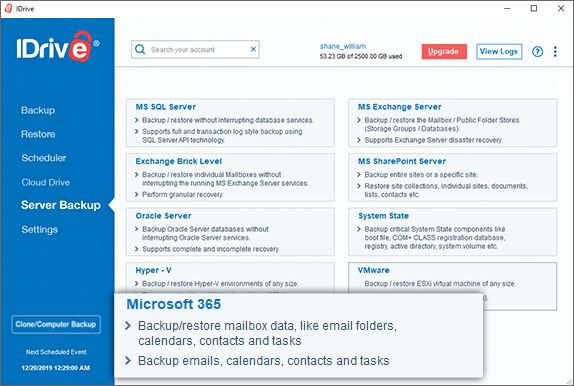 Features
Individual or multiple mailboxes can be backed up to the cloud
Backup emails, calendars, contacts, tasks (eml, vcf, ics format) in compressed form
Schedule multiple mailbox backups
Supports incremental backup
Restore mailbox data to Microsoft 365 Exchange Online mailbox
Restore mailbox data locally in eml, vcf, ics format with folder structure intact
Take control of your organization's Microsoft 365 email mailbox data and protect against data loss
System Requirements
Windows 7 Service Pack 1, Windows 8, Windows 8.1, Windows Server 2008 R2, Windows Server 2008, Windows 10, Windows 11, Windows Server 2012 R2, Windows Server 2012, Windows Server 2016, Windows Server 2019, Windows Server 2022
2 GB RAM
Sufficient hard disk space to store the mailbox backup files (.ofl) for temporary backup and restore
Protect your organization's data with secure online server backups
Starts at $99.50/year $74.62 for first year
SIGN UP NOW!